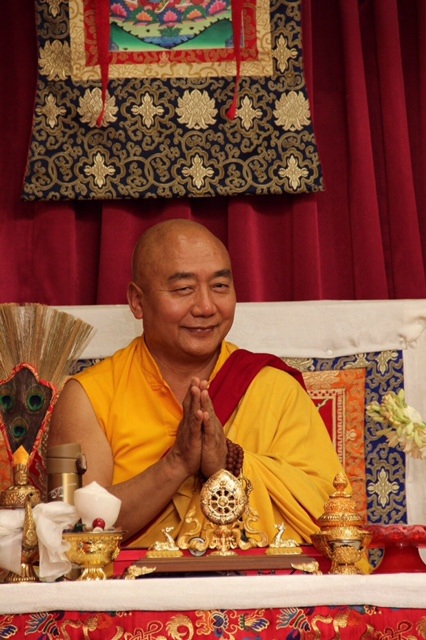 H.E. Khenchen Rigzin Dorjee Rinpoche is the founder and head of the Nyingma Institute in Gangtok, Sikkim, India and the Nyingma Retreat Center, Martam, Sikkim, India. He also supervises a number of Dharma centers around the world, including locations in the U.S.A., Taiwan, Bhutan, Nepal, and elsewhere.
H.E Rinpoche was one of the principal students of the late Kyabje Jadrel Rinpoche, from whom he received the full transmission of the Longchen Nyingtik lineage.  He has also received teachings from many other accomplished masters of Tibetan Buddhism, such as H.H. Dudjom Rinpoche, the late Kyabje Dilgo Khyentse Rinpoche, Kyabje Pema Norbu Rinpoche, the late Nyingma Khenpo Dhaser, the late Khenpo Wanglo, the late Kaguth Khenpo Khasdrup, the late Sakya Khenpo Rinchen, Gelug Khenpo Tsultrim, Khenpo Jampa Donyoe and others. Rinpoche is now the main lineage holder of Dzogchen Longchen Nyingtik and Dzogchen Rigzin Sogdrup.
He is also an expert in many other Hinayana, Mahayana, and Vajrayana teachings within Buddhism. Rinpoche has had a profound influence on his students throughout his more than 25 years of teaching experience and daily practice, and his students can be found all over the world. Through Rinpoche's guidance, many of his students have become Khenpos (masters of philosophy) and Vajra Masters (masters of meditation).
Rinpoche speaks fluent English. He has dedicated his life to studying Buddhism and spreading the Buddhist Dharma in order to bring peace and happiness to humanity. When he is not traveling to give teachings or to supervise his monastic colleges and retreat centers, he resides in Menlo Park, CA.